Els set corbs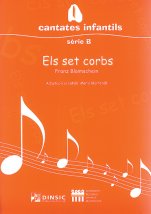 12.50 € VAT not included
13.00 € VAT included
Contents
An original work by Franz Blaimschein, called 'Die sieben Raben' (The seven crows) in Germany where it is published by Breitkopf & Härtel (Wiesbaden, Germany), translated and adapted into Catalan by Maria Martorell.
A children´s cantata intended for groups of children, choir, piano, recorder, guitar, percussion, triangle and xylophone, with a narrator and various characters (father, mother, the seven children, the sister and the animals of the forest). Apart from numbers IV and VI, it can be played using just piano, recorder and percussion.
Structure
Full score.
Technical Specifications
Measurements
21 x 29,7 cm, vertical
Binding
Staple. Plastic-coated cover.
Number of Pages
20
Editor
DINSIC Publicacions Musicals