Cànons d'ahir i d'avui 2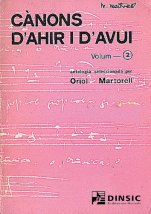 11.15 € VAT not included
11.60 € VAT included
Contents
The two collections of Canons Past and Present (Cànons d´ahir i d´avui 1 and Cànons d´ahir i d´avui 2) published by MD in 1973 and 1979 were prompted by the usefulness of canons for a variety of choral singing activities (choirs as such, excursions, schools, short courses etc.).
That usefulness was confirmed by the successful reception these books have enjoyed, leading to these new editions, which preserve the characteristics of the original ones. The contents are divided in two ways: by periods, and by whether they are traditional or the work of composers. As regards the physical presentation of these editions, the size has been enlarged a little to make them easier to read.
In addition, attempts have been made to improve them by seeking to update the information on composers, standardising some typographic details, and going for a less dense appearance in the layout. In some cases, this meant reordering the canons within their original groups.
Instrumental and vocal formations
Choir
Technical Specifications
Measurements
14,7 x 21 cm, vertical
Binding
Paperback
Number of Pages
48
ISMN
979-0-69210-490-2
Editor
DINSIC Publicacions Musicals
Also collaborating:
Illustrator
Anna Bassó Sumoy