Audició 1: CD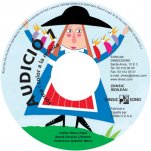 12.98 € VAT not included
13.50 € VAT included
Contents
This CD corresponds to the book
Audició 1. Forma i color a la música.
It contains 18 pieces or music excerpts with diverse musical forms: rondo, dance, ABA, variations on a theme, ostinato, canon.
Musical instruments (colour): wind (bevel, single reed, double reed, mouthpiece), string (picking, with bow), key (piano, harpsichord), percussion.
Structure
Forms: work is done on each form.
Colour (musical instruments): each instrument is studied according to its classification for type of sound reproduced.
Revision: revision exercises for some forms.
Experiments: practice activites for sound reproduction of the different instruments.
Technical Specifications
Measurements
13 x 13 cm, cuadrado
Binding
Clear plastic envelope with peel and seal closure
ISBN
84-86949-21-1
Editor
DINSIC Publicacions Musicals
Also collaborating:
Illustrator
Àngels Comella Olivé