Abesten 1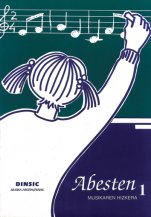 14.90 € VAT not included
15.50 € VAT included
Contents
Melodic notes: G-E, A, C, D, F, high C (C4), B; C Major scale and arpeggio. / Time values: crotchet, crotchet rest, two quavers, minim, dotted minim. / Time signatures: 2/4 and 3/4. / Clefs: treble and bass. / Dynamic markings: f, p F; wedges (crescendo and decrescendo); double bar repeat sign; Da Capo al Fine.
Structure
Practice activities for reading music, presented in seven global units in the following order:

-Melody-reading exercises using traditional songs, songs and melodies by the authors.
-Harmonic-blending exercises.
-Two-part vocal exercises.
-Rhythm exercises: Sing, clap and play.

Series of melodies working specific points.
Written exercises (on perforated pages in book).
Piano accompaniments for the exercises (in the appendix).
Technical Specifications
Measurements
21 x 29,7 cm, vertical
Binding
Paperback
Shrink-wrap
Book and appendix (sold as a single unit)
Number of Pages
128
Appendix N Page
40
ISBN
84-86949-66-1
Editor
DINSIC Publicacions Musicals
Also collaborating:
Accompaniments
Anna Alegre Valls, Jordi-Lluís Rigol Monné, Lluïsa Alegre Heitzmann, Mariona Vila Blasco, Xavier Torns Cuende
Cover Designer
Antoni Bassó
Orchestration Orff
Enriqueta Farràs
2-3 Voices
Narcís Bonet
Translations of this Publication