Abesten 4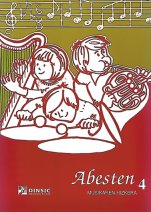 19.71 € VAT not included
20.50 € VAT included
Contents
(The contents for each topic are arranged in order of appearance and should be added to those of the previous books.)
Melodic scales: revision of major and minor keys, up to two sharps and two flats (E flat M; C m; A M; F sharp m; modulation; chromaticisms). / Time values: study in greater depth all rhythms introduced in previous book and in addition, the study of quaver-dotted quaver-semiquaver, and quaver-semiquaver triplet. / Time signatures: those previously studied plus 12/8. / Clefs: treble and bass. / Chords, intervals and tonal functions: revision of those already studied (Major and minor 2nd, Major and minor 3rd, the octave, perfect 4th and 5th), revision of the tonic and dominant chords, Major and minor 6th intervals, function of subdominant.
Structure
Practice activities for reading music, in nine global units presented in the following order:
-Melody-reading exercises, using traditional songs, songs and melodies by the authors.
-Harmonic-blending exercises.
-Two-part vocal exercises.
-Rhythm exercises.
-Series of melodies working specific points and scale formulation.
-Written exercises (on perforated pages in book).
-Piano accompaniments for the exercises (in the appendix).
Technical Specifications
Measurements
21 x 29,7 cm, vertical
Binding
Paperback
Shrink-wrap
Book and appendix (sold as a single unit)
Number of Pages
128
Appendix N Page
56
ISBN
84-95055-23-6
Editor
DINSIC Publicacions Musicals
Also collaborating:
Accompaniments
Sabin Salaberri, Tomás Aragüés, Zuriñe Fernández Guerenabarrena
Cover Designer
Antoni Bassó
Illustrator
Anna Bassó Sumoy
Translations of this Publication